Forum Confluentes Koblenz
....
Multi-functional cultural building

In the spectacular new multi-functional 'Kulturbau' at the Zentralplatz in Koblenz, the public library, the Mittelrhein Museum and the tourist information with the interactive experience exhibition "Romanticum" have found a new home with a high recognition value. Situated at the transition between the historic centre and the new town, the cultural building presents itself as an organically shaped volume forming a new landmark with a strong identity in the urban context, which results from its distinctive object-like appearance, the exceptional façade design and the deliberate elevation in the city.
..
Multifunktionales Kulturgebäude
 
Im spektakulären Neubau eines multifunktionalen Kulturgebäudes am Zentralplatz haben die Stadtbibliothek Koblenz, das Mittelrhein-Museum und die Koblenz Touristik mit der interaktiven Erlebnisausstellung "Romanticum" ein neues Zuhause mit hohem Wiedererkennungswert gefunden. An der Schnittstelle zwischen Alt- und Neustadt positioniert sich der Kulturbau als organisch geformter Körper, der durch die prägnante Objekthaftigkeit, eine außergewöhnliche Fassadengestaltung und die bewusste Überhöhung eine neue Landmarke mit hohem Identifikationspotential im Stadtgefüge bildet.
....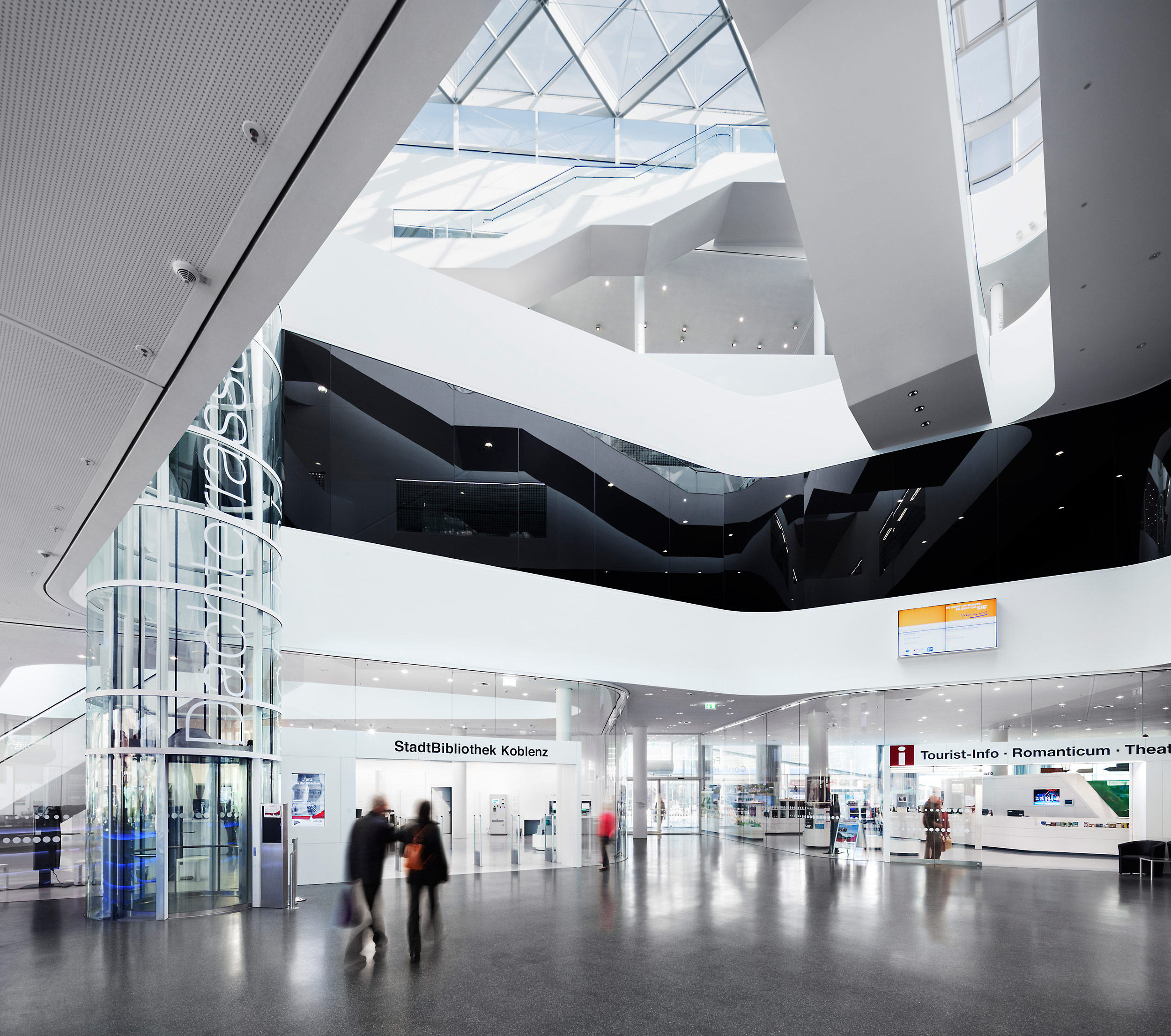 ....
Museum, city library and tourist centre with new building typology

Not only does the combination of three cultural institutions in one building provide the opportunity to exploit comprehensive synergies in day-to-day operations, it also presents the possibility to develop a new building typology, which through its functional added value becomes an inspiring catalyst for the entire cultural landscape in the "Deutsches Eck" region. Starting from this basic conceptual idea, the three uses are grouped around a shared foyer as separate islands. The glass-roofed, spectacular interior space of the central foyer and the atrium expand across several levels up to the publicly accessible rooftop terrace, and spatially and visually connect all functions in an impressive way.
..
Museum, Stadtbibliothek und Touristikzentrum in einem neuen Gebäudetypus
 
Die Verbindung von drei kulturellen Institutionen in einem Haus bietet nicht nur die Chance zu umfassenden Synergie-Effekten im alltäglichen Betrieb, sondern auch die Möglichkeit zur Entwicklung eines neuen Gebäudetypus, der durch seinen funktionalen Mehrwert zum inspirierenden Impulsgeber der gesamten Kulturlandschaft am Deutschen Eck wird. Ausgehend von diesem konzeptionellen Grundgedanken werden die drei Nutzungen als separate Inseln um das gemeinsame Foyer gruppiert. Der glasüberdachte, spektakuläre Innenraum des zentralen Foyers und Atriums erstreckt sich über mehrere Geschosse bis zur öffentlich zugänglichen Dachterrasse und verbindet dabei räumlich und visuell auf eindrucksvolle Weise sämtliche Nutzungen miteinander.
....
....
Multi-layered, translucent façade

The multi-layered façade made of white printed glass envelops the building like a translucent veil, powerfully reduces it to an abstract volume and lends the building a magnificent lightness and contemporary elegance. Only the entrances to the building are designed as clearly visible openings and greet the visitor with a welcoming gesture.
..
Mehrschalige, transluzente Fassade
 
Die mehrschalige Fassade aus weiß bedrucktem Glas legt sich wie ein transluzenter Schleier um das Gebäude, reduziert das Volumen kraftvoll auf einen abstrakten Körper und verleiht dem Haus eine große Leichtigkeit und zeitgemäße Eleganz. Nur die Eingänge in das Gebäude sind als deutlich sichtbare Einschnitte geplant und empfangen den Besucher mit einladender Geste.
....
testimonial
V. Comelli
STRABAG Real Estate GmbH, Köln
–
"Durch das "Forum Confluentes" und das "Forum Mittelrhein" ist es in beeindruckender Weise gelungen, in der Koblenzer Innenstadt zwei auf den ersten Blick divergierenden Nutzungen - Kultur und Handel - in einem attraktiven Gesamtensemble für alle Beteiligten gewinnbringend miteinander zu verknüpfen. Diese Herausforderung konnten wir dank Markus Sporer und seinem Team meistern.
Unter der sehr guten Einbeziehung aller Beteiligten ist angesichts einer komplexen politischen Gesamtlage ein hochwertiges Gebäudeensemble entstanden, das von den Koblenzern sehr gut angenommen wird. Meine Hochachtung gilt dem Team dafür, dass es gelungen ist, in teilweise durchaus schwierigen Situationen immer gute, konstruktive Lösungen zu finden. Das erlebt man in dieser Weise und auf diesem Niveau selten."
....
Client: ECE Projektmanagement GmbH & Co.KG
Acquisition: competition (Gutachterverfahren), 1st prize
Commission: service phases (SP) 1 – 4, master details (SP 5), architectural site supervision (SP 8)
Architect: CROSS Architecture / Benthem Crouwel GmbH
Project team: M. Sporer, S. Rullkötter, M. Crouwel, M. Blom, T. Kortmann, B. Krienen, J. Görling, C. Wens
Building services: Technic Air GmbH
Structural engineering: Ingenieurbüro Domke Nachf
Building physics: Kempen & Krause Ingenieure GmbH
Fire protection: HHP West Beratende Ingenieure GmbH
Landscape architect: Kubus Freiraumplanung GbR
Photos: © Jens Kirchner / © Thomas Eicken / © Dirk Laubner
..
Auftraggeber: ECE Projektmanagement GmbH & Co.KG
Akquise: Gutachterverfahren zur Realisierung nach GRW 1995, 1. Preisträger
Auftrag: LP 1 – 4, Leitdetails (LP 5), künstlerische Oberleitung (LP8)
Architekt: CROSS Architecture / Benthem Crouwel GmbH
Projektteam: M. Sporer, S. Rullkötter, M. Crouwel, M. Blom, T. Kortmann, B. Krienen, J. Görling, C. Wens

TGA: Technic Air GmbH
Statik: Ingenieurbüro Domke Nachf
Bauphysik: Kempen & Krause Ingenieure GmbH
Brandschutz: HHP West Beratende Ingenieure GmbH
Landschaftsarchitekt: Kubus Freiraumplanung GbR

Fotos: © Jens Kirchner / © Thomas Eicken / © Dirk Laubner
....