....Holsten Area Hamburg..Holstenareal Hamburg....
....
Urban concept "Neues Holsten Quartier"

The planned demolition of the Holsten Brewery in Altona and the resultant possibility to develop an area of approx. 80,700 square metres as a northeastern termination of "Mitte Altona" offers unique opportunities for the Altona district and the City of Hamburg to grow internally and regain areas, which so far served as industrial sites, for urban uses.
..
Städtebauliches Konzept "Neues Holsten Quartier"
Der geplante Rückbau der Brauerei Holsten in Altona und die dadurch entstehenden Möglichkeiten, ein Areal von ca. 80.700 qm als nordöstlichen Abschluss der "Mitte Altona" zu entwickeln bietet einzigartige Chancen für den Bezirk und die Stadt Hamburg nach innen zu waschen und bisher industriell genutzte Flächen für urbane Nutzungen zurück zu gewinnen.
....
....
"Neue Mitte Altona"

It is our aim to further develop the themes worked out in the master plan for the "New Mitte Altona", such as morphology, urban granulation, interconnection of urban spaces, outdoor quality, integration of existing identity-generating buildings etc., and transfer them to the "Neues Holsten Quartier" – the master plan provides the general layout and forms the spine for new planning.
The centrepiece of the new quarter is the district park, which is continued as a green link. We pursue the aim to further expand this open space towards the northeast and thus - analogue to the existing master plan – locate as many blocks and apartments as possible directly along the park. The ensemble of historic Holsten Brewery buildings on Haubachstraße forms the start respectively the end of this green bracket. The buildings are embraced by the surrounding blocks like a brooch and are predestined for cultural or gastronomic uses – they provide an important place of identity for the quarter.
Additional special uses like day-care centre, community centre, youth facilities, commercial premises for start-ups, pop-up stores with changing utilisation etc. are located in respectively directly at the district park and form "stepping stones" on the way to the centre of the Altona district.
..
Neue Mitte Altona
 
Wir verfolgen das Ziel, die im Masterplan für die "Neue Mitte Altona" herausgearbeiteten Themen wie Morphologie, städtebauliche Körnung, Vernetzung von Stadträumen, Außenraumqualitäten, Integration von identitätsstiftenden Bestandsbauten, etc. weiter zu entwickeln und in das neue Holsten Quartier zu übertragen - der Masterplan liefert die "Arbeitsanleitung" und bildet das Rückgrat für die Neuplanung.
Das Herz des neuen Quartiers bildet der Stadtteilpark, der als grüne Verbindung weiter geführt wird. Es wird das Ziel verfolgt, diesen Freiraum nach Nordosten weiter zu führen und dadurch - analog zum bestehenden Masterplan – möglichst viele Blöcke und Wohnungen unmittelbar an den Park anzulagern. Der Auftakt bzw. das Ende dieser grünen Spange bildet das Ensemble der historischen Bauten der Holsten Brauerei an der Haubachstraße. Diese werden durch die umgebenden Blöcke wie eine Brosche gefasst und sind prädestiniert für kulturelle oder gastronomische Nutzungen – sie bilden einen wichtigen Identifikationsort für das Quartier.
Weitere Sondernutzungen wie Kita, Quartierszentrum, Jugendeinrichtungen, Gewerbeflächen für Start-Ups, Pop up stores mit wechselnder Nutzung etc. sind im, beziehungsweise unmittelbar am, Stadtteilpark situiert und bilden so "Trittsteine" auf dem Weg zur Altonaer City.
....
....
The public facilities of the Theodor Haubach School and the sports hall located between Haubachstraße and Gerichtstraße, which directly adjoin the park, are integrated into this ensemble and thus naturally included in the park and the new district.
The figure and granulation of the blocks are oriented by the existing structures as defined by the master plan. The blocks, which also have a prismatic ground plan, are positioned so that they harmoniously continue the existing network of paths and new visual connections are continually created. The proposed double row of blocks in the north provides a buffer towards Stresemannstraße in the north and the railway tracks to shield the district park and the quarter from noise.
The former Holsten production site is turned into an attractive quarter and living environment in the heart of Hamburg.

..
Die unmittelbar an den Park angrenzenden öffentlichen Einrichtungen der Theodor-Haubach-Schule und Sporthalle, zwischen der Haubachstraße und der Gerichtstraße, werden in dieses Ensemble integriert und damit auf selbstverständliche Weise in den Park und das neue Quartier integriert.
Die Figur und Körnung der Blöcke orientiert sich an den vorgefundenen Strukturen aus dem Masterplan. Die im Grundriss ebenfalls prismenförmigen Blöcke sind so platziert, dass die vorgefundenen Wegebeziehungen auf stimmige Weise fortgeführt werden und sich stets neue Blickbeziehungen ergeben. Die vorgeschlagene, doppelte Blockreihe im Norden bildet einen Puffer zur nördlich gelegenen Stresemannstraße und Bahntrasse um den Stadtteilpark und das Quartier von Lärm abzuschirmen.
Der alte Produktionsstandort des Holsten Areal wird so zum attraktiven Quartier und Lebensraum im Herzen von Hamburg.
....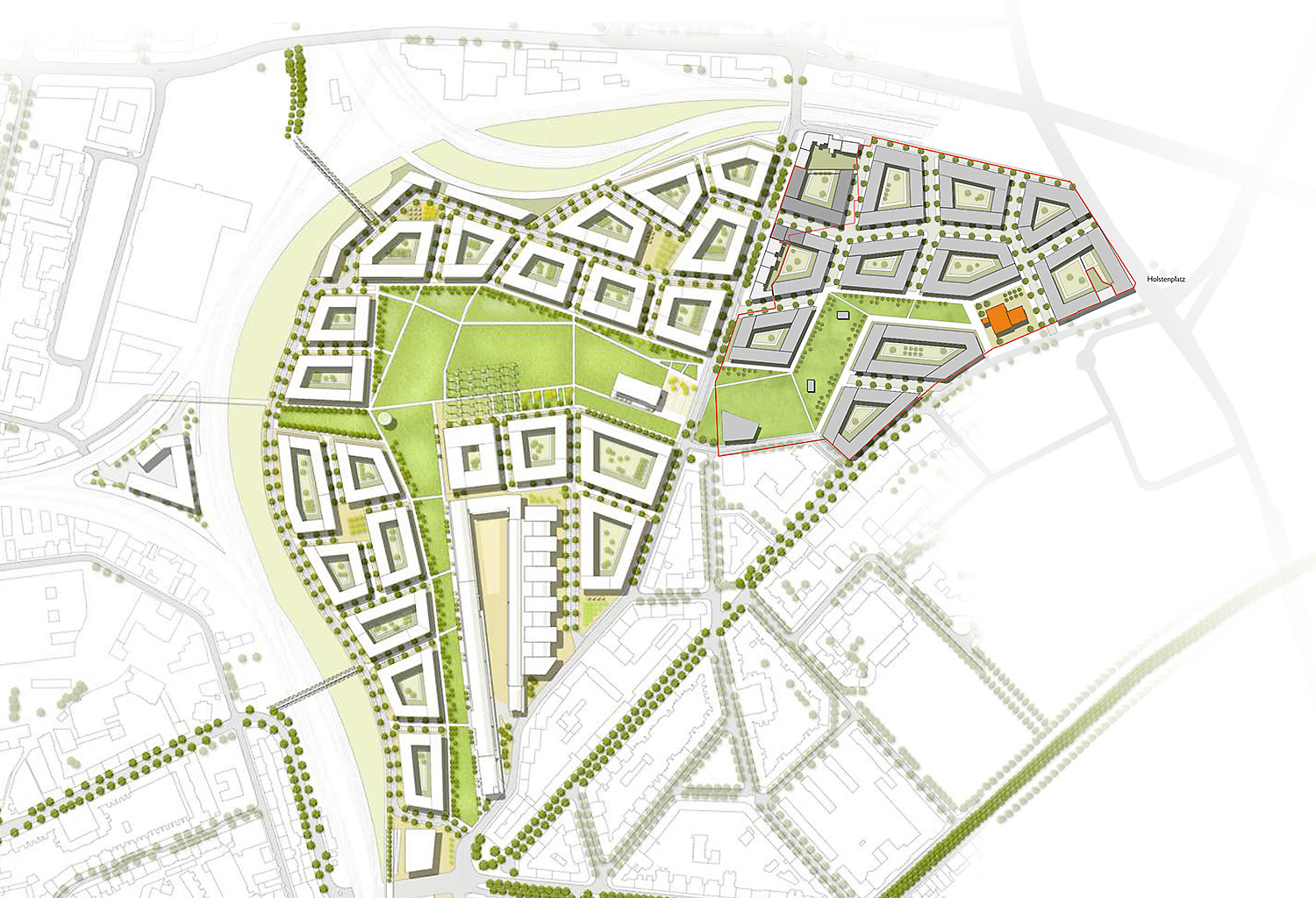 ....
Client: Hines Immobilien GmbH
Architect: CROSS Architecture / Benthem Crouwel GmbH
Project Team: M. Sporer, C. Wens, F. Elshoff, L. Polaczek
..
Auftraggeber: Hines Immobilien GmbH
Architekt: CROSS Architecture / Benthem Crouwel GmbH
Projektteam: M. Sporer, C. Wens, F. Elshoff, L. Polaczek
....
Concept study: January 2016



DOWNLOADable project sheet:
similar Projects:
..
Konzeptstudie: Januar 2016


ZUSAMMENFASSUNG ZUM DOWNLOAD:
Ähnliche Projekte:
....