....
Hotel building for the Hilton Group

On the site of the former Tivoli on Krefelder Straße, a new attractive residential area with high-quality office areas and commercial premises has been under construction since 2010. With a deliberate increase of the building volume and an exceptional façade design, the new 3-star hotel building for the Hilton Group, which is located halfway between the motorway and the historic city centre, not only marks the entry to the urban district but also the entrance situation at the foot of the Lousberg, which is important as regards the urban context.
..
Hotelbau für die Hilton-Gruppe
Auf dem Gelände des alten Tivoli an der Krefelder Straße entsteht seit 2010 ein neues, attraktives Wohngebiet mit hochwertigen Büro- und Gewerbeflächen. Der Neubau des 3-Sterne Hotels der Hilton-Gruppe auf halber Strecke zwischen Autobahn und historischem Stadtzentrum markiert mit der bewussten Überhöhung der Kubatur und der außergewöhnlichen Fassadengestaltung nicht nur den Zugang in das neue Stadtquartier, sondern auch die stadträumlich wichtige Eingangssituation am Fuße des Lousbergs.
....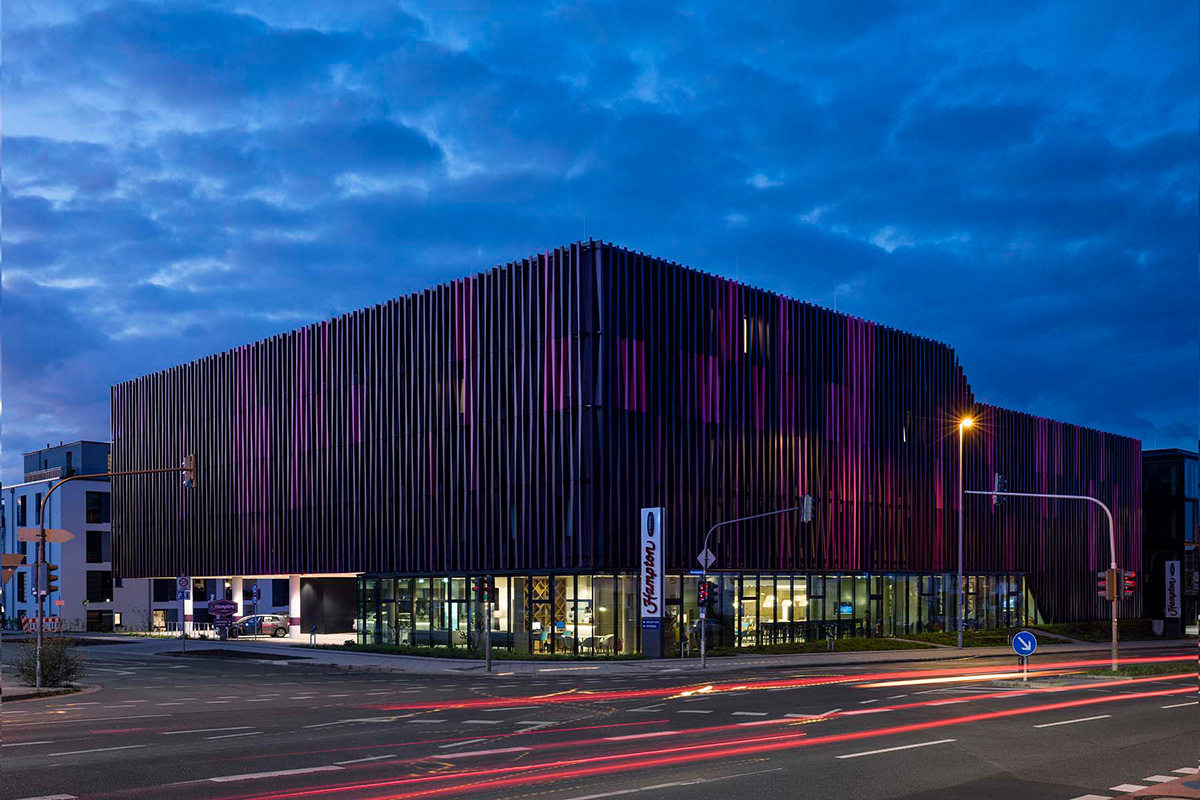 ....
Façade as accentuation

The hotel with 164 guestrooms frames the square site on three sides and is designed as a dissolved perimeter development. The hotel rooms and secondary rooms are arranged in a solid volume, which spans the generous, welcoming driveway and the seamlessly adjoining open hotel lobby as a compact, partly "hovering" building section.
The hotel's outstanding and distinctive design characteristic is the custom-made curtain wall façade made of three-dimensionally shaped aluminium sheet, which as vertically arranged lamellas cover up the strict rhythm of the punctuated façade, while its varying dimensions generate a subtle dynamic on the façade. With its strong spatial depth and vibrant purple colour, the hotel façade adds an unmistakable design highlight visible from afar at one of Aachen's most important arterial roads.

..
Die Fassade als Akzent
 
Das Hotel mit insgesamt 164 Gästezimmern umschließt an drei Seiten das quadratische Grundstück und ist als aufgelöste Blockrandbebauung konzipiert. Die Gästezimmer und Nebenräume des Hotels werden in einem geschlossenen Volumen gestalterisch zusammengefasst und überspannen als kompakter, teilweise "schwebender" Baukörper die großzügige, einladende Vorfahrt und die nahtlos anschließende, offene Hotellobby.
Herausragendes und einprägsames Gestaltungsmerkmal des Hotels ist die maßgeschneiderte Vorhangfassade aus dreidimensional verformten Aluminiumblechen, die als vertikal angeordnete Lamellen den strengen Rhythmus der Lochfassade überspielen und durch variierende Abmessungen eine subtile Dynamik auf der Fassade erzeugen. Mit ihrer großen räumlichen Tiefe und kräftigen, purpurnen Farbigkeit setzt die Fassade des Hotels einen unverwechselbaren, gestalterischen Akzent mit großer Fernwirkung an einer der wichtigsten Ausfallstraßen der Stadt Aachen.
....
....
Gross floor area: 9,800 m²
Competition: September 2011
Start of construction works: February 2016
Opening: July 2017
DOWNLOADable project sheet:
similar Projects:
Urban Soul Bonn
Rundschauareal Frankfurt
..
Bruttogrundfläche: 9.800 m²
Wettbewerb: September 2011
Baubeginn: Februar 2016
Eröffnung: Juli 2017


ZUSAMMENFASSUNG ZUM DOWNLOAD:
Ähnliche Projekte:
....
Client: DaixKo Hotelbaugesellschaft mbH & Co.KG
Acquisition: competition, 1st prize
Commission: SP 1 – 4, master details (SP 5), architectural site supervision (SP8)
Architect: CROSS Architecture / Benthem Crouwel GmbH
Project team: M. Sporer, C. Wens, J. Görling, S. Vijgen, F. Elshoff

Building services: DSTR Planungsgesellschaft mbH
Structural engineering: B. Walter Ingenieurgesellschaft mbH
Building physics: B. Walter Ingenieurgesellschaft mbH
Fire protection: B. Walter Ingenieurgesellschaft mbH
Landscape architect: Greenbox Landscape Architects PartG
Photos: © Jens Kirchner

..
Auftraggeber: DaixKo Hotelbaugesellschaft mbH & Co.KG
Akquise: Wettbewerb, 1. Preisträger
Auftrag: LP 1 – 4, Leitdetails (LP 5), künstlerische Oberleitung (LP8)
Architekt: CROSS Architecture / Benthem Crouwel GmbH
Projektteam: M. Sporer, C. Wens, J. Görling, S. Vijgen, F. Elshoff

TGA: DSTR Planungsgesellschaft mbH
Statik: B. Walter Ingenieurgesellschaft mbH
Bauphysik: B. Walter Ingenieurgesellschaft mbH
Brandschutz: B. Walter Ingenieurgesellschaft mbH
Landschaftsarchitekt: Greenbox Landschaftsarchitekten PartG
Fotos: © Jens Kirchner
....