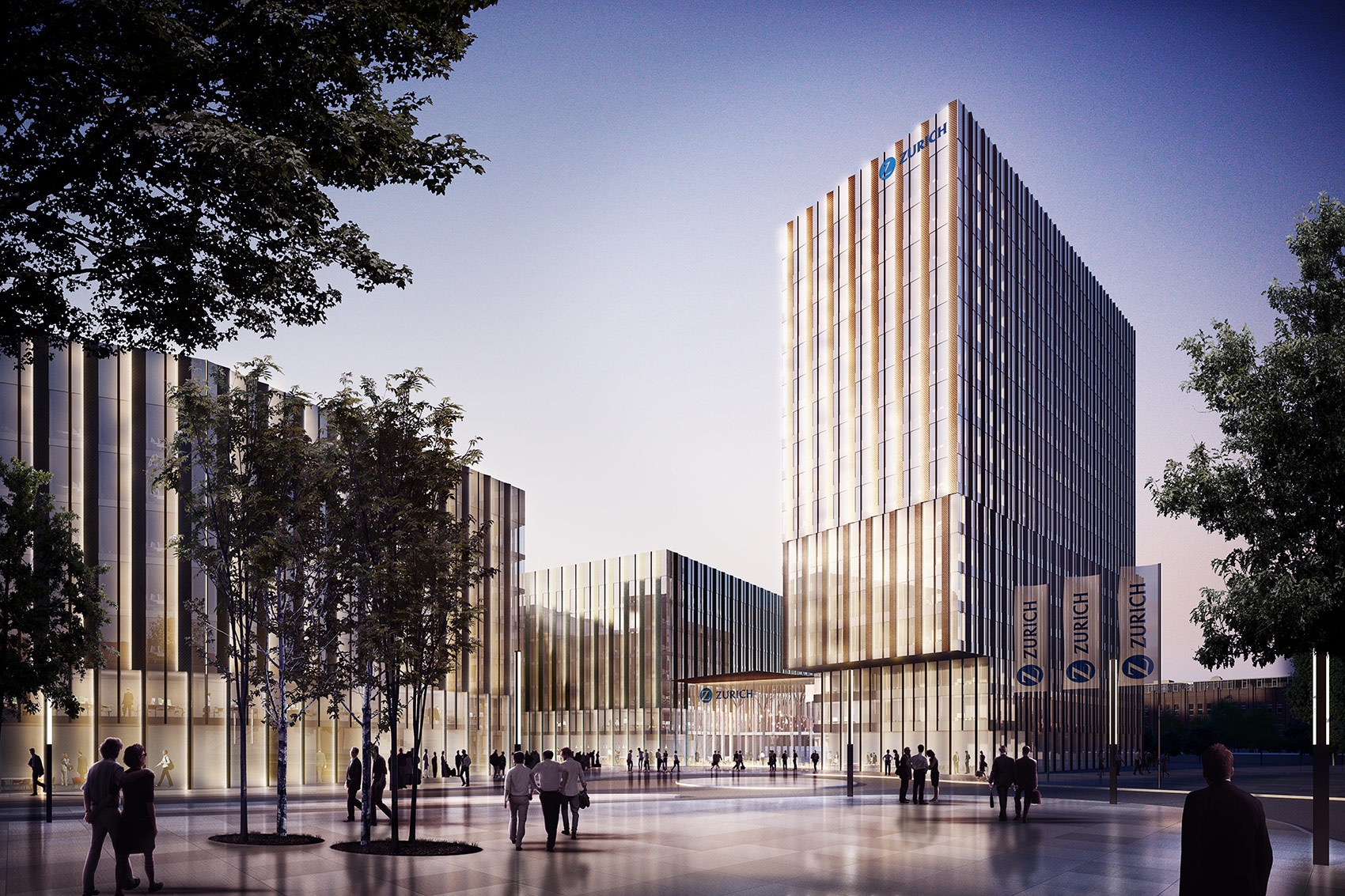 ....
Façade design - Identity for a new district

In the next few years, the new "Messe City Köln" is going to be implemented in the immediate vicinity to the "Köln Messe/Deutz" railway station, and thus in an exposed location in Cologne's city fabric. Since the new ensemble will have a decisive influence on the city's silhouette due to its prominent location close to the Rhine, the perception of the buildings from different distances represents both a special challenge and the appeal of this project.
The differentiated, vertical structures as well as the material quality and colouring of the façades of the adjoining historic trade fair halls and "Rheinhallen" are the starting point of the superordinate design concept: the new "Messe City Köln" is thus strongly "anchored" at this location.

..
Fassadenentwurf - Identität für ein neues Quartier
 
Unmittelbar neben dem Bahnhof Köln Messe/Deutz entsteht in den nächsten Jahren die neue "Messe City Köln" in exponierter Lage im Kölner Stadtgefüge. Da das neue Ensemble aufgrund seiner herausragenden Position unweit des Rheins die Kölner Stadtsilhouette maßgeblich beeinflussen wird, stellt die Wahrnehmung der Baukörper aus unterschiedlichen Distanzen die besondere Herausforderung und den Reiz der Aufgabe dar.
Die differenzierten, vertikalen Strukturen und die Materialität und Farbigkeit der Fassaden der angrenzenden, historischen Messe- und Rheinhallen bilden den Ausgangspunkt des übergeordneten Entwurfskonzeptes: Die neue "Messe City Köln" wird so stark am Standort "verankert".
....
....
Ensemble in anodised metal

Against the background of a sustainable and economic overall concept, the façade design aims at diversity in unity. The façades of all four building complexes have, in principle, a strictly vertical structure, but are regarding their three-dimensional details individually worked out. Depth and material of the construction generate a powerful architectural expression, which continually varies with changing light situations in the course of the day.
The colours of the existing buildings in the surroundings are characterised by brick, reddish stone and concrete and taken up in the gentle brass colours of the anodised metal façades of the new buildings. The diversified variations of a simple but contemporary basic design idea convey the impression of a vivid and varied urban district with its own unmistakable identity from any distance.

..
Ensemble in eloxiertem Metall
 
Vor dem Hintergrund einer nachhaltigen und wirtschaftlichen Gesamtkonzeption wird in der Fassadengestaltung die Vielfalt in der Einheit angestrebt. Die Fassaden aller vier Gebäudekomplexe sind im Grundsatz streng vertikal gegliedert, jedoch im Detail individuell verschieden plastisch durchgearbeitet. Durch Tiefe und Materialität der Konstruktion entsteht ein kraftvoller, architektonischer Ausdruck, der sich mit wechselnden Lichtsituationen im Tagesverlauf stetig verändert.
Der Farbigkeit der umgebenden Bestandsgebäude wird von Ziegel, rötlichem Naturstein und Beton geprägt und in den sanften Messingfarben der eloxierten Metallfassaden an den Neubauten aufgenommen. Die abwechslungsreichen Variationen einer einfachen, aber zeitgemäßen gestalterischen Grundidee vermittelt aus jeder Distanz das Bild eines lebendigen und vielfältigen Stadtquartiers mit einer eigenen, unverwechselbaren Identität.
....
....
Gross floor area: --- (façadecompetition)
Competition: February 2016
DOWNLOADable project sheet:
similar Projects:
Rundschau Area Frankfurt
Berlin Railway Triangle
..
BGF: Fassadenwettbewerb
Wettbewerb: Februar 2016


ZUSAMMENFASSUNG ZUM DOWNLOAD:
Ähnliche Projekte:
....
Client: STRABAG Real Estate GmbH, ECE Projektmanagement GmbH & Co.KG
Acquisition: competition
Architect: CROSS Architecture / Benthem Crouwel GmbH
Project team: M. Sporer, C. Wens, D. Eichenberg, V. van der Graft, T. Mitschke, L. Polaczek, A. Mercade

Façade planner: Arup Deutschland GmbH
Visualisation: Rendertaxi

..
Auftraggeber: STRABAG Real Estate GmbH, ECE Projektmanagement GmbH & Co.KG
Akquise: Wettbewerb nach RAW 2004
Architekt: CROSS Architecture / Benthem Crouwel GmbH
Projektteam: M. Sporer, C. Wens, D. Eichenberg, V. van der Graft, T. Mitschke, L. Polaczek, A. Mercade

Fassadenplaner: Arup Deutschland GmbH
Visualisierung: Rendertaxi
....