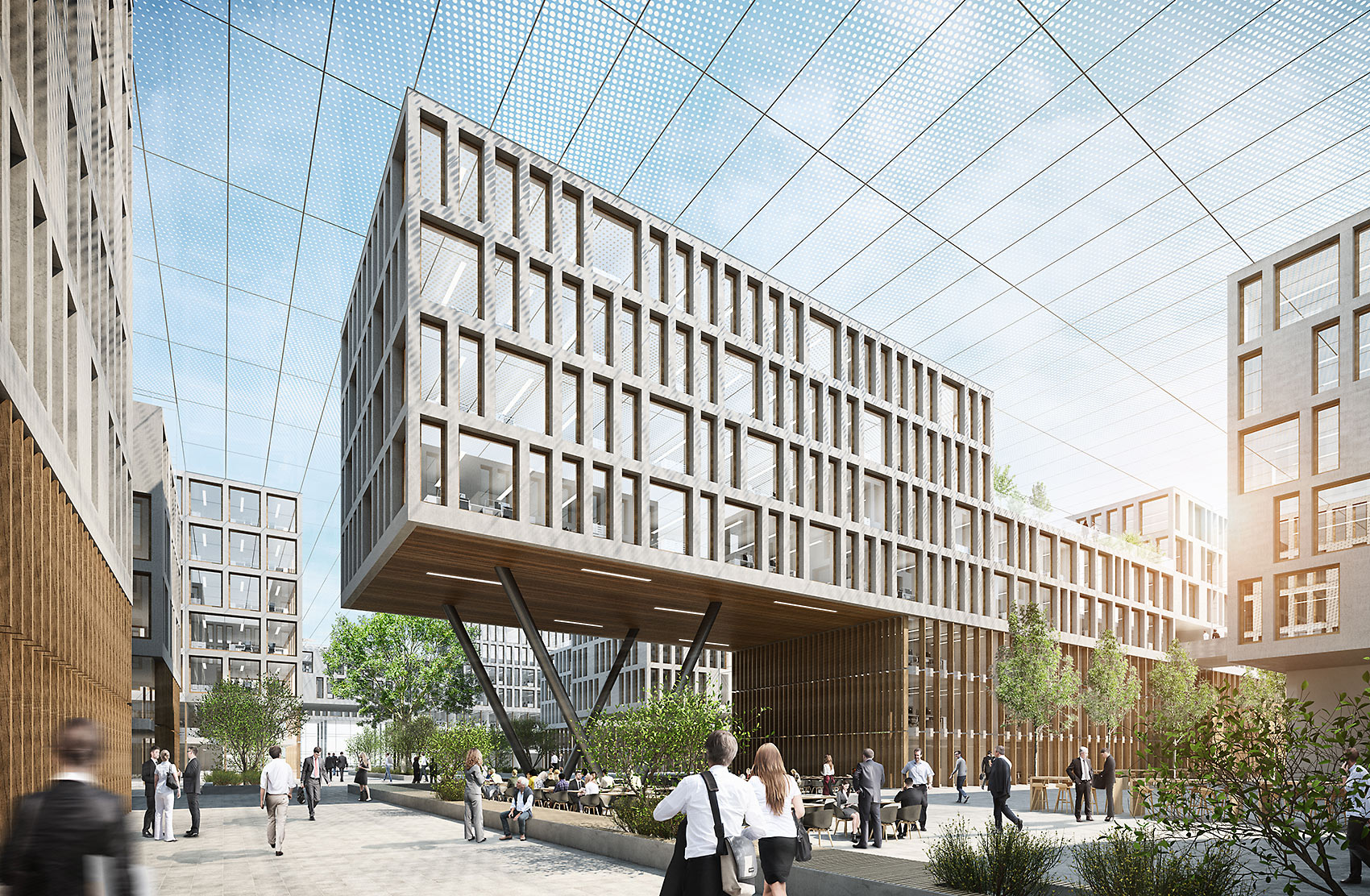 ....
Urban Village

A new office location for 4,000 employees ought to be implemented in a context, which is dominated by a very heterogeneous building structure – and the lack of a spatial identity. We planned a clear architectural structure: a cluster consisting of elongated buildings, which are lined up along a shared entrance hall. The single "houses" are sculpturally elaborated and thus variegated with recesses and an alternation of the number of storeys – a total of seven different types creating differentiated spatial situations have been designed.

..
Urban Village
 
In einem Umfeld, das dominiert ist durch eine sehr heterogene Baustruktur – und die fehlende räumliche Identität – soll ein neuer Bürostandort für 4.000 Arbeitnehmer entstehen. Wir haben eine klare und ordnende bauliche Struktur geplant: ein Cluster aus Gebäuderiegeln, die an einer gemeinsamen Eingangshalle aufgereiht sind. Die einzelnen "Häuser" werden durch Unterschnitte und den Wechsel der Geschosszahlen skulptural durchgearbeitet und damit diversifiziert – insgesamt entstehen sieben unterschiedliche Typen, die differenzierte räumliche Situationen bilden.
....
....Cubature Development..Entstehung Kubatur....
....
Connecting communication spaces as places for innovation

The aim was to create special qualities for the user, in other words, to create places where people feel comfortable and which express a strong identity. Consequently, we not only designed special places on the ground floor but also placed and interconnected them on three levels within the overall structure. The offer ranges from highly frequented common areas such as a restaurant, café or fitness club, to quieter areas like a lounge or library, through to the green oases on the rooftop terraces.

..
Verknüpfende Kommunikationsräume als Orte für Innovation
 
Ziel war es, besondere Qualitäten für den Nutzer zu erzeugen, also Orte zu schaffen, an denen sich Menschen wohlfühlen und die eine starke Identität bieten. Besonderen Orte haben wir deshalb nicht nur im Erdgeschoss vorgesehen, sondern räumlich in drei Ebenen innerhalb der Gesamtstruktur platziert und miteinander vernetzt. Das Angebot reicht von stark frequentierten Gemeinschaftsflächen wie einem Restaurant, Café oder Fitnessclub, über ruhigere Bereiche wie eine Lounge oder Bibliothek bis zu den grünen Oasen der Dachterrassen.
....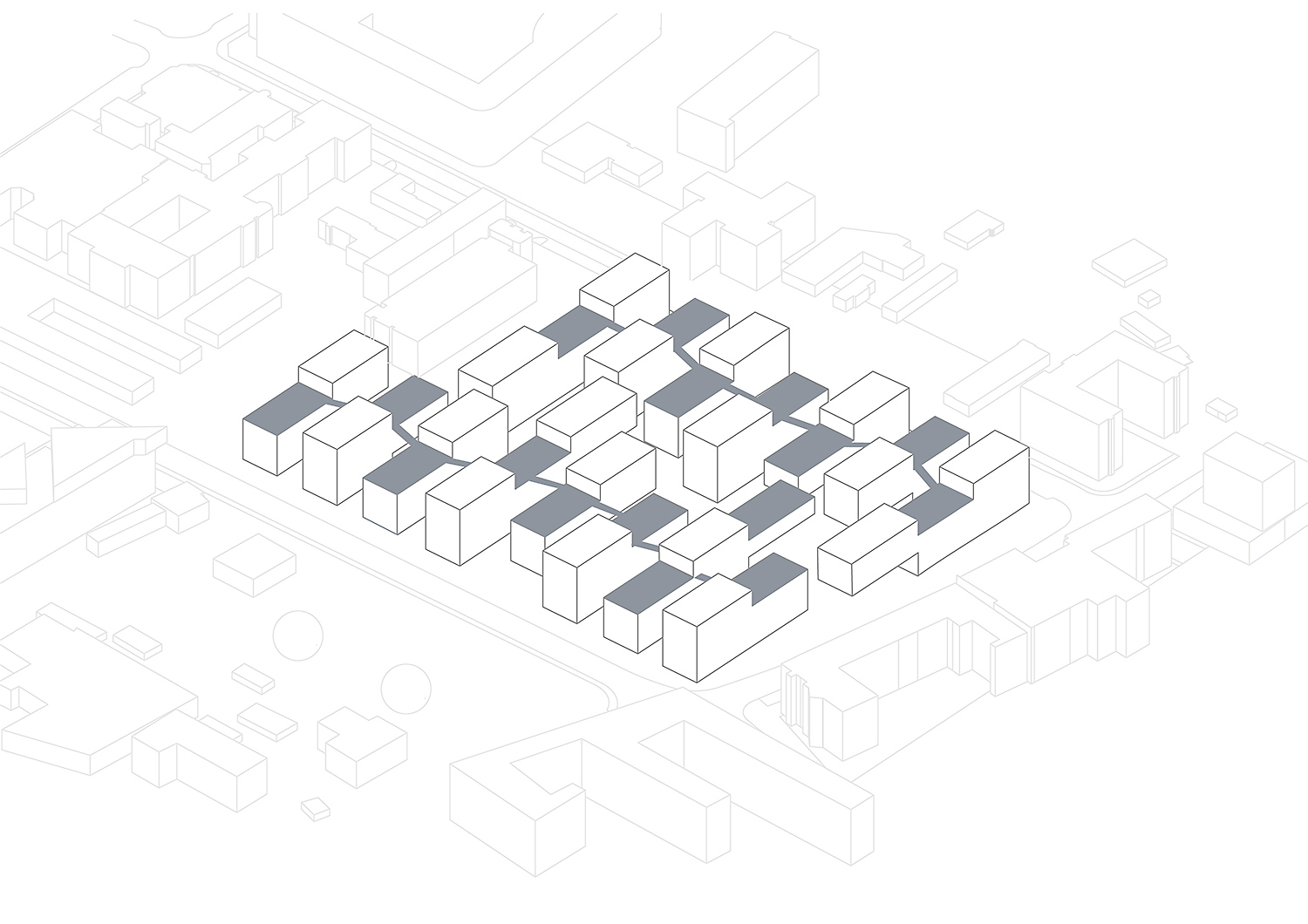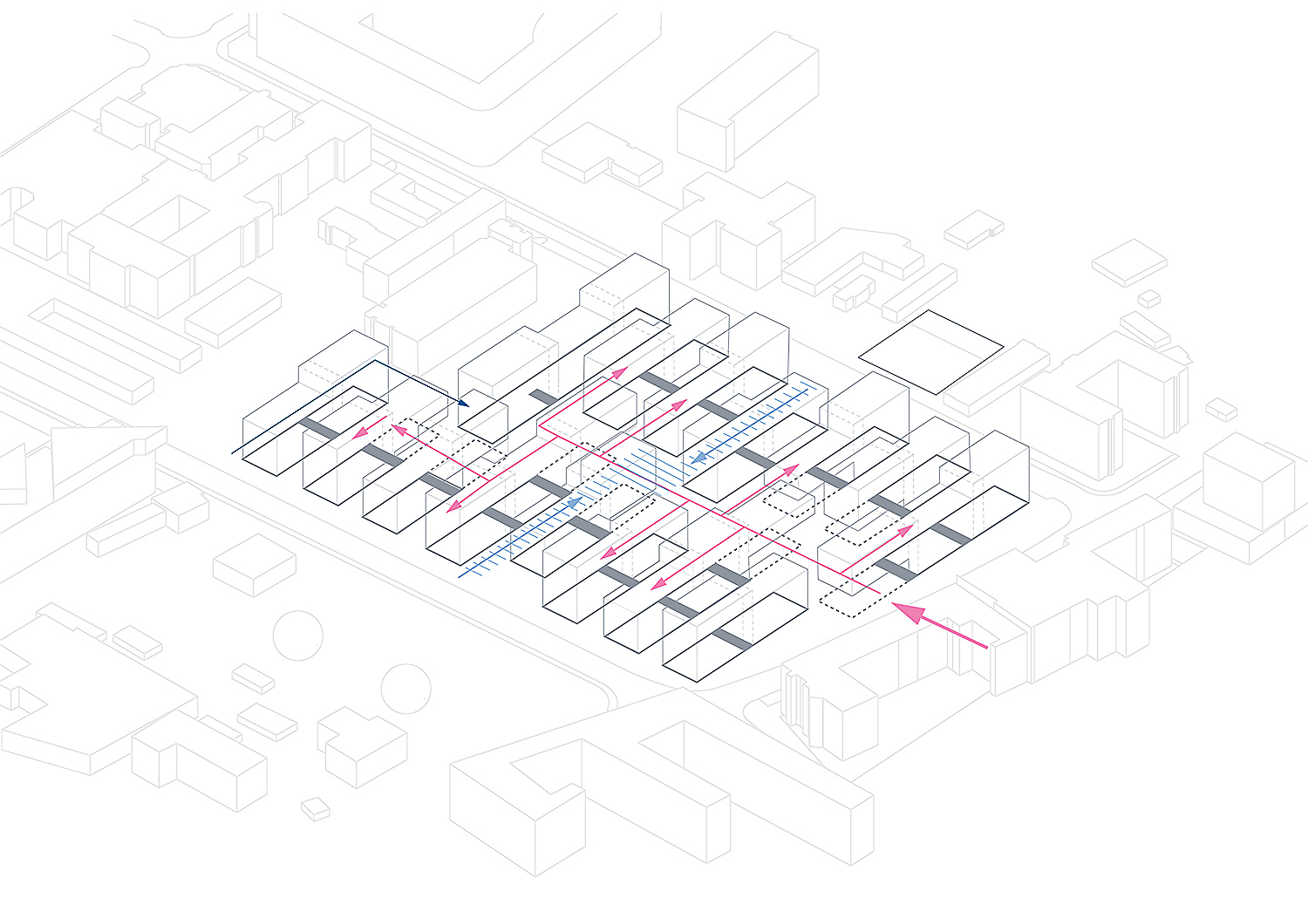 ....Communication Spaces..Kommunikationsräume....
....
Client: Daimler AG
Acquisition: competition
Architect: CROSS Architecture / Benthem Crouwel GmbH
Project team: M. Sporer, V. v.d. Graft, L. Polaczek, A. Mercade, D. Eichenberg, C. Wens

Visualisation: Rendertaxi

..
Auftraggeber: Daimler AG
Akquise: Wettbewerb
Architekt: CROSS Architecture / Benthem Crouwel GmbH
Projektteam: M. Sporer, V. v.d. Graft, L. Polaczek,
A. Mercade, D. Eichenberg, C. Wens

Visualisierung: Rendertaxi Aachen
....