Paleisbrug's-Hertogenbosch
....
Bridge with city park for pedestrians and cyclists

The 250-metre long Paleisbrug (Palace Bridge) is a hovering city park as well as a pedestrian and cycle bridge all in one. It connects the historic old town with the new "Palace District". The folded Corten steel structure integrates cycle lanes and footpaths, benches, plant beds, and lighting. The planting concept was developed by landscape architect Piet Oudlof. Different vegetation zones structure the bridge and, together with the integrated furnishing and lighting concept, they create a place of high spatial quality, which invites passers-by to stop and linger.

..
Brücke mit Stadtpark für Fußgänger und Radfahrer
Die 250 Meter lange Paleisbrug (Palastbrücke) ist ein schwebender Stadtpark, Fußgänger- und Radfahrerbrücke in einem. Sie verknüpft und verbindet die historische Altstadt mit dem neuen Entwicklungsareal Paleisquartier. In der gefalteten Corten-Stahlkonstruktion sind die Rad- und Gehwege, Sitzbänke, Pflanztröge und die Beleuchtung integriert. Das Konzept für die Bepflanzung wurde von dem Landschaftsarchitekt Piet Oudlof entwickelt. Unterschiedliche Vegetationszonen gliedern die Brücke und schaffen mit dem integrierten Möblierungs- und Beleuchtungskonzept einen Ort mit hoher Aufenthaltsqualität, der die Passanten zum Verweilen einlädt.
....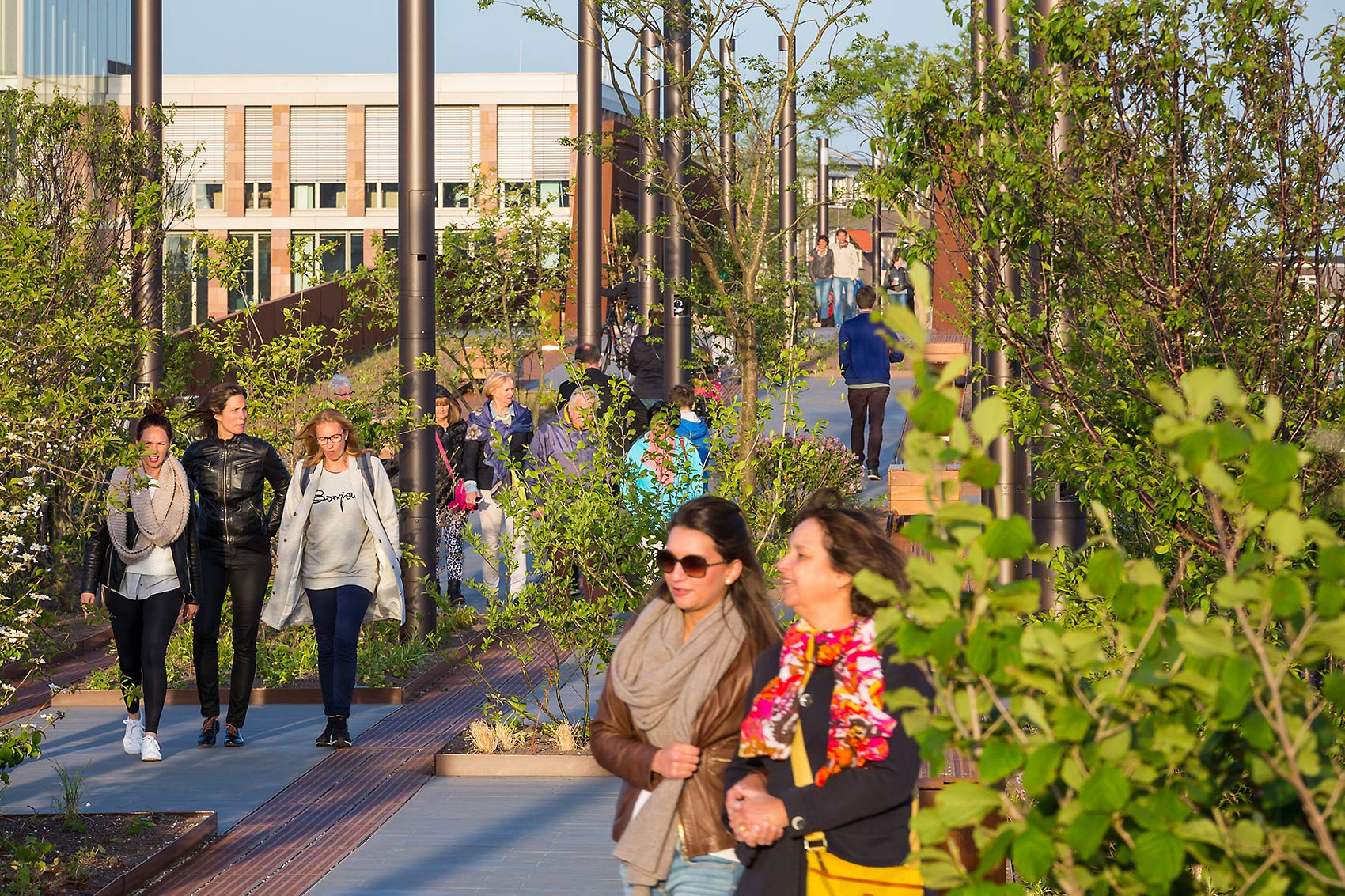 ....
Technology and sustainability

The bridge features an intelligent sustainability concept and a sophisticated technological highlight: it is coupled with an Aquifer thermal energy storage. With this heat reservoir, the heat generated in summer is stored and then provided during the winter months to supply the underfloor heating integrated in the bridge deck with a supply temperature of 10° C, so that lanes and plant beds remain ice-free and the use of salt is redundant.

..
Technik und Nachhaltigkeit
 
Die Brücke verfügt über ein intelligentes Nachhaltigkeits-Konzept und ein ausgefeiltes technisches Highlight: sie ist mit einem Akquifer–Wärmespeicher gekoppelt. Darüber wird die im Sommer erzeugte und gespeicherte Wärme in den Wintermonaten über eine integrierte Fußbodenheizung zur Beheizung der Brücke mit einer Vorlauftemperatur von 10° C genutzt. So bleiben die Wege und die Pflanzbeete eisfrei und auf den Einsatz von Salz kann verzichtet werden.
....
....
Client: Municipality of 's-Hertogenbosch
Architect: Benthem Crouwel Architects

Photos: © Jannes Linders
..
Auftraggeber: Gemeinde 's-Hertogenbosch
Architekt: Benthem Crouwel Architects

Fotos: © Jannes Linders
....