Quantum Physics Stuttgart..Quantenphysik Stuttgart
....
University campus with new physics buildings

The design for the "Centre of Applied Quantum Technology and the new Physics Building" provides the new centre for international top-level university research at the Stuttgart-Vaihingen location. We divided the comprehensive room schedule into a flat building plinth and a meandering, two-storey structure on top. That way we were able to introduce a human scale to the huge building mass and precisely integrate the new building into the urban master plan for the university campus.

..
Universitäts-Campus mit Neubau für die Physik
Der Entwurf für das "Zentrum für Angewandte Quantentechnologie und den Neubau der Physik" bildet das neue Zentrum für internationale universitäre Spitzenforschung am Standort Stuttgart Vaihingen. Wir haben das große Raumprogramm in einem flachen Gebäudesockel und einem mäandrierenden, 2-geschossigen Aufbau gegliedert. Auf diese Weise fügen wir einen menschlichen Maßstab in der massiven Baumasse ein und integrieren den Neubau passgenau in den städtebaulichen Masterplan des Universitäts-Campus.
....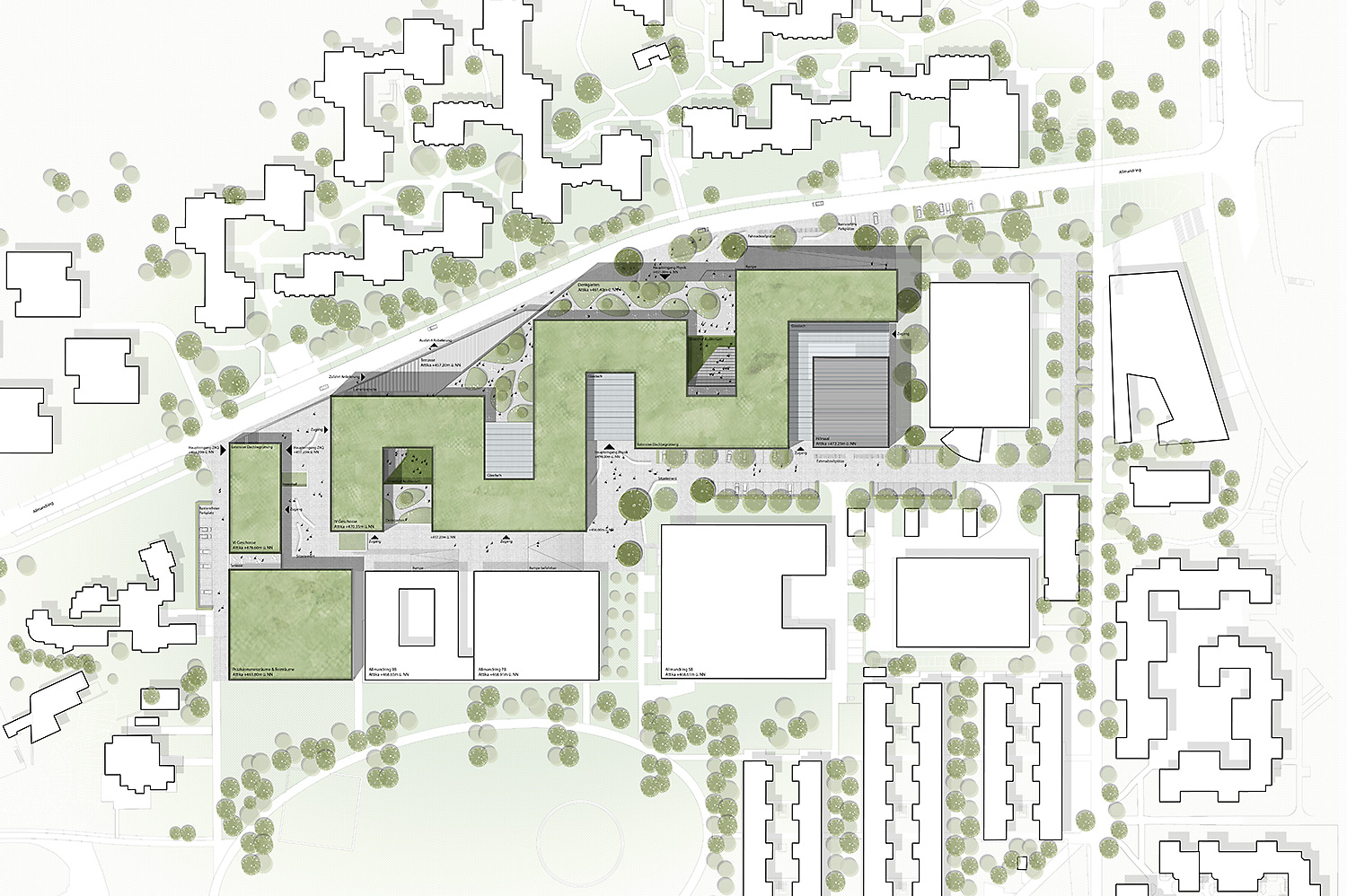 ....
New rooms for teaching and research

The flat plinth bridges the varying levels of the site topography in an elegant way. It takes up existing pathways and forms the communicative centre of the physics campus. Boulevard, squares, courtyards, and stairs provide meeting places and communication zones for students, professors and scientists – a "city of physics" develops. The two-storey superstructure accommodates laboratories and institute facilities, providing ideal and innovative workspaces for teaching and research. Generous green roof terraces and courtyards offer views to the natural surroundings and bring the landscape into the building.
..
Neue Räume für Lehre und Forschung
 
Mit dem flachen Sockel wird der Niveauversprung der Topografie auf elegante Weise aufgefangen. Er nimmt bestehende Wegeverbindungen auf und bildet das kommunikative Zentrum des Physikcampus. Boulevard, Plätze, Höfe und Treppen bilden Treffpunkte und Kommunikationsorte für Studenten, Professoren und Forscher – es entsteht eine "Stadt der Physik". Der zweigeschossige Aufbau nimmt die Labore und Institutsbereiche auf und bietet den Forschern optimale und innovative Arbeitsplätze für Lehre und Forschung. Großzügige, begrünte Dachterrassen und Höfe bieten Ausblicke ins Grüne und holen den Landschaftsraum ins Gebäude.
....
....
Client: Vermögen und Bau Baden Württemberg
Architect: CROSS Architecture / ARGE Benthem Crouwel GmbH / Carpus und Partner

Building services/laboratory planning: Carpus und Partner
Fire protection: Kempen Krause Ingenieure
Structural engineering: Bollinger Grohmann
Landscape architect: Karres en Brands
Visualisation: Rendertaxi
..
Auftraggeber: Vermögen und Bau Baden Württemberg
Architekt: CROSS Architecture / ARGE Benthem Crouwel GmbH / Carpus und Partner

TGA/Laborplanung: Carpus und Partner
Brandschutz: Kempen Krause Ingenieure
Statik: Bollinger Grohmann
Landschaftsarchitekt: Karres en Brands
Visualisierung: rendertaxi
....